A CLASSIC EXAMPLE OF BODY-OFF TOTAL RESTORATION
Hop in!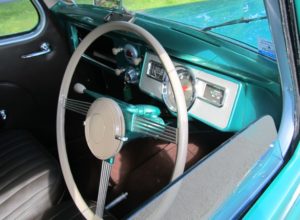 PROJECT BREAKDOWN
MECHANICAL
Motor rebuild, wiring, brakes, suspension
PANEL
Strip back, replace rusted panels
PAINT
Respray to owners specifications
UPHOLSTERY
As required by the owner
We know our cars and we know their history
From the mid-1950s to the mid-1960s, the Minx and its derivatives were the greatest-volume sellers of the "Audax" family of cars from Rootes, which also included the Singer Gazelle and Sunbeam Rapier. The final version of the Minx was the "New Minx" launched in 1967, which was part of the "Arrow" family and essentially a basic version of the Hillman Hunter. Generally, the Minx was available in four-door saloon and estate forms, with a 1496-cc engine.
The Hillman Super Minx was a slightly larger model offered during the Audax era.
Throughout the life of the Minx, there was usually an estate version—and, from 1954 to 1965, a short-wheelbase estate, the Hillman Husky, and a van derivative known as the Commer Cob.
The Minx model name was revived briefly – along with the "Rapier" name, as applied to the Sunbeam Rapier version of the Audax family – as a special edition late in the life of the Talbot Alpine / Talbot Solara cars, produced by Chrysler Europe after its takeover of the Rootes Group.
Image Gallery